(Updated) BTCMines.club Review : Is It A Scam?? [Paying Site]
You would have heard of bitcoin and how much bitcoin prices has gone up and down in the past 1 year (updated on 22Jun – 1BTC is now equivalent to USD 10,606). Looking for a simple and fast way to earn bitcoins without spending a dime? Websites like BTCMines.club claims to be one of those sites that offers free faucets, viewing of ads, videos and in exchange gives you a small amount of bitcoins or known as satoshis. Curious to know how it works and how you can earn an income working from home? The review below will shed some light on this…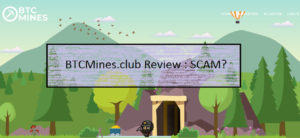 What is BTCMines.club?
BTCMines.club is a new kind of Bitcoin Faucet where you feed little miners and they mine bitcoin for you. It is also known as a Fantasy Mining Game where payouts are done in bitcoin/satoshi which is payable to FaucetHub.io account. This website has been quite active for almost a year now with new changes/updates made to the site regularly. No software installation is required in order to earn from this website as well. Based on the statistics on the website, the site has paid out approximate 21 BTC, has over 84,000 members and 52million tasks completed till date.
How does BTCMines.club works?
There will be 2 videos available on the dashboard that teaches you on how the site works and how you can earn from the site. Of course, you can choose to learn how the site works through the video or choose to explore the site on your own. The site also organizes contests regularly which you can participate for free and earn some prizes. There are various methods/earning streams such as the virtual mine where you start off with a free miner. Similar to all bitcoin/altcoin faucets, this site earns its income through advertisements that are displayed throughout the site and through purchase of new miners/better miners. Purchases can be made using Coinpayments.net platform.
How do you earn from the site?
There are several methods/streams that you can earn through.
Virtual mine (main source to earn satoshi) – You get a free Newbie miner but in order to earn satoshi using the mine, you will need to earn "apples" to feed to your miner. Once you feed apples to your miner, the miner will start "working". Your earning potential is dependent on your experience level and the type of miner. It is also important to leave your browser window open as the miners only work whilst the mining window is open. If you close the mining browser window then you are in effect, disconnecting from the game.
Manual Faucet – This is one of the ways to earn the apples to feed your miners. Each faucet claim earns you 2 apples and you would like to view the ads for 5 – 10 secs, go through the anti-bot verification and the 2 apples will be added to your account
Auto-faucet – This is one of the newest addition to the site. Almost similar to the manual faucet with the exception that it is automated. However, auto-faucet takes a longer time to earn the apples as you need to go through 3 steps of 60 secs each – no anti-bot verification is required. The best part about this method is that you can start the auto-faucet and go to sleep! By the time you're up the next day, you have enough apples to feed your miner for hours!
Bittube – Another stream of earning apples through watching videos and going through the anti-bot verification. The Bittube faucet length depends on the video length. Longer videos require you to watch for longer.
CPU Miner – This method uses your CPU power to mine for hashes which is then converted to satoshis. All you need to do is start the CPU Miner (no software installation required), leave your browser open and click claim when you have reached enough hashes. The conversion is dependent on the rate at the time when you click the claim button
Offer Walls – Complete tasks / offers to earn
How do I withdraw my earnings?
There is no minimum payout. You can withdraw as little as 1 Satoshi. Your earnings are in satoshis and you can withdraw your earnings directly to FaucetHub.io account. Therefore, in order to be able to withdraw from this site, you need to also sign up with FaucetHub.io – a Micro Payment Platform. There are no charges imposed by BTCMines.club and the withdrawals are instant. The only drawback is that there is a daily withdrawal limit of 1,000 satoshis for beginners but this will increase if you have higher experience.
What I like about the site
For busy working professionals who wish to earn slow passive incomes from home or just to explore opportunities in earning bitcoin without investment – this site offers that. No investment is required as long as you are aware and accepted the fact that if you wish to own 1 bitcoin, it may take a very long time! Instant withdrawal to your FaucetHub.io account and not much effort required especially if you utilize the auto-faucet.
How much money can I make from BTCMines.club?
The site claims there are no limits to how much you can make. You can hammer away at their faucet till you have had enough. There are no restrictions. You are only limited by the number of miners and mines you ow and how often you put your miners to work or if you start the CPU Miner. However, based on the site's member withdrawal stats, it averages from 1,000 to 2,000 satoshis a day.
How do I join?
To join the site, you will need to register with your email address and password. In addition, an account with FaucetHub.io – micro wallet platform is also required (for withdrawal of your earnings). Once you have registered as a member, it is a matter of earning the "apples" and feeding them to your miner.
If you don't think this site is for you, or earnings are too slow, you can also earn through other similar sites like Cointiply.com, Cryptomininggame.com. If you prefer to work part-time or full time making more money online, check out my #1 Recommendation!
Until then,
Alston C.
https://WorkAnyplaceAnytime.com