[Updated] Cryptomininggame.com Review : Easy to earn or too Complex?
Crypto mining game or bitcoin mining games has been the latest craze in the past few months as more and more people start to realize the value of bitcoin or other alt coins. Cryptomininggame.com is one of these websites which I have joined for almost a year now. In this review, I will talk about what Cryptomininggame.com is all about, how do you play/earn from the site, how much you can earn from it and best of all, this is a free online mining game which allows you to earn bitcoin, doge, lite coin, duff and many more from the comfort of your home.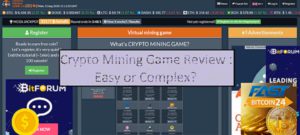 What is Cryptomininggame.com?
Cryptomininggame is a cryptocurrency faucet which is pays you with Bitcoin, Dogecoin, Dashcoin, Ethereum, Litecoin, BCH and a few other alt coins. The objective of the game is to complete missions which in turns earns you a small amount of Bitcoin, Dogecoin or Litecoin (depending on which mission you selected). In the more recent update, you have the ability to reach Premium status – higher payout, hash power (HP) which allows you to mine at a higher rate. Through the missions, you can potentially earn referrals as well. Yup – referrals whereby you will get a certain percentage of their earnings.
How is Cryptomininggame.com different from others?
This site has many features such as :
Mining– There are two types of mining, one is virtual mine (does not use your CPU power) while the other is mine for real (it uses your CPU power). For virtual mine, crystals are required. Each crystal used to MINE represents 10 minutes of mining. So, for example, at level 12, you will be able to mine for 120 min (2 hours) without interruptions. The best strategy I'm using at the moment is try to mine every time your mining has stop. This helps to increase the amount of satoshi/doge/litoshi that you get.
Missions – There are 15 levels of missions (according to the News update, there are new levels coming up). As mentioned above, for each level you will get some Bitcoin (satoshi)/Doge coin/Litecoin (depending on what type of mission you've selected), crystals, hash power and referral. Each mission level will indicate what is the % of chances you will get crystals, hash power and referral. So, you don't get everything at the same time every time. Now, on top of the missions, there is also Quests, where you can claim additional bonuses for completing the quests ie. silver chest, bitcoin or gold chest. Each of the chest can be opened for additional prizes!
Bonus– You can get daily loyalty bonus, for each day that you log in and collect the bonus, the multiplier increases. However, if you missed one day, the multiplier starts back at 1
Market Place (Previously known as Exchange) – Previously, Crypto mining game allows you to exchange one crypto currency to another ie. from litoshi to bitcoin and vice versa. Since this has been remove, it has been replaced with Market Place where it function almost similar to the exchange. Instead of just exchanging the cryptocurrencies, you can now also exchange your 'game cards' or crypto coins (this is coins used to upgrade your games). At any one time, there are thousands of exchanges happening at the market place and all exchanges are instant which is quite cool.
Pros and Cons
Pros :
8% of referral bonus for lifetime
Daily loyalty bonus
Earn more in missions (originally 15 levels, with 1.04 update – 07/2018 – 18 levels. Includes major changes in missions lengths etc.)
Mine for real
Cons :
Slow to load
Too many pop-ups, almost every clicks launches an advert
Site is too cluttered (at times, makes it difficult to navigate)
Who should join?
I would say basically anyone who is interested to earn a passive income without really doing much as all you need to do is to log into the site a few times in a day (more often if you want to ensure that you get maximum income out of it), start a mission and start the virtual mine. If you observe the exchange rate closely, you can further maximize your earnings as you can choose to convert your earned coins when the rates favour you. However, be warned that although there is earning potential on this site – it does not mean that you will become rich overnight! Progress seems to be quite slow unless you play the mission, virtual mine and CPU mining (26Mar – CPU mining has been removed due to low value of bitcoin). Of course, having a lot of active referral helps majorly as well!
Is it a SCAM site?
So far, after almost a year, the site is still up and running. In fact, it is still listed on NetBusinessRating as a LEGIT site. The owners provide regular updates and regular enhancements – including when they will perform maintenance/upgrades so that you are well aware much earlier. In fact, recently the owners even posted to inform in advance that withdrawals and support tickets may be responded late as they are off for holidays!
Have I withdrawn from the site before?
Of course! Although I must admit that I have only withdrawn twice (90,000 satoshis) so far. Withdrawal goes directly to your FaucetHub.io account and there is a 1.5% fees incurred. There are withdrawal thresholds – Satoshi (50,000), Doge (100), Litoshi (400,000) and so on. Or, you can choose to withdraw in the form of Hash power (no fees incurred but the Hash power only last for 1 year). Being the coward that I am, I would choose to withdraw to my FaucetHub account any time than to convert into Hash power (just in case this site goes bust LOL)
Final thoughts…
Personally, I feel this site has great potentials to increase your daily earnings/passive income or accumulation of bitcoins and to top it off, it does not require much effort or any investment at all. The only investment is your time and dedication towards the site. If you do CPU mining, then of course your electricity as well. Otherwise, this is a slow earning site and you would need to do this together with several other sites to greatly see a positive outcome, not to mention the hassle of closing multiple ads that keeps popping up your screen! If you want to try out other sites – check out my other reviews on BTCMines.club and Cointiply.com which is of similar nature.
If you feel all this are just a waste of time, and you want to work part-time or full time working on your own online business from the comfort of your home, check out my review on the #1 Recommendation!
Till then,
Alston C.
https://workanyplaceanytime.com