Easyhits4u Review : How to increase the traffic to your website?
In this age and time where number of traffic to your site will determine the success of your site, I am sure you will be looking towards various options, either through social media like Facebook, Pinterest or even Instagram to drive traffic to your site. I am here to share with you on how to increase the traffic to your website using a traffic exchange program. The traffic exchange I'm referring to here is Easyhits4u which is a traffic exchange that has been operating for years!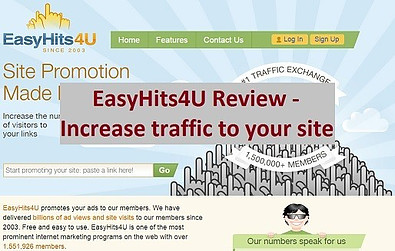 Easyhits4u.com is a 1:1 traffic exchange system. This site helps webmasters or site owners to promote their sites and affiliate/referral links from other programs. By using this site, you visit each site using the system and in return, you will receive one visitor back to your own website or referral link. It offers several membershp status – free, premium and ultimate membership. Premium membership comes at a price $7.95 per month and ultimate membership starts at $19.95 per months. Of course with an upgraded membership, you will receive a lot of perks such as free credits (this would be especially useful for those who just want free traffic but not spend time to view others website), signup bonus, increased number of rotators and sites and many more. Nevertheless, free membership works just as well – I'm using the free membership at the moment.
How many accounts can I create?
Similar to all other sites, members are limited to one account per person. If you create more than one account, all your accounts will be terminated by the admin. However, it seems that you can refer your relatives to join (even if you share the same computer and/or IP address). You will be able to access your accounts and services from any location with any compatible device. I have even surfed the traffic exchange using my mobile phone before and it works fine.
How do I get "hits" to my site?
In order to start getting traffic to your site, you would need to first sign up, log in to your members account and submit your site(s) on the "Websites" page. Once you have added your website, you would need to verify your site and it will be "live" on the traffic exchange system. To start getting credits which you have to assign to your site (1 credits = 1 visitor), you will need to click the "Start Surfing" button at your home page. You can select either to perform a 2:1 surfing (15 sec timer) and 1:1 surfing (20 secs timer). The timer will start the moment the page is loaded and once the timer ends, you would need to click the click the picture or question that appears before the timer expires. I usually go with the 1:1 surfing since I will directly earn 1 visitor, afterall, the difference is only 5 secs.
Can I earn from Easyhits4u besides traffic?
Easyhits4u allows you to refer members to join using a referral link that is provided. For each person that you refer, you will be paid $0.10 once they have surf 100 or more sites. This is a onoe-time cash bonus for each referral). In addition, you will also earn commissions of up to 40% from all purchases of Easy Splash Builder and Easy Rotator tools which is made by your first level referrals. Although you get paid for your referrals, however, you need to remember that Easyhits4u is not a moneymaking machine as the main purpose of the site is as a traffic exchange and the bonus that you receive for surfing is an added benefit. You need to remember that you should not work full time to make money from this site. Afterall, you can also promote your other moneymaking programs and build your downline using this traffic exchange.
How do I get paid then?
You would first need to achieve the minimum payout amount of $3.00 and this is paid through SolidtrustPay. Usually, payouts are done within 5-10 business days on average and you can submit your payout request using the "Cashout" link on the "Statistics" page. I have yet to achieve minimum payout amount as I usually use the funds to convert into credits so that I get continous traffic to my site.
I have Google Adsense on my site, should I still use the traffic exchange?
No, it is not advisable to use Easyhits4u or any traffic exchanges as it is against the Google AdSense Program Policies and may result in cancellation of your Google AdSense account. So, please do not try unless you want to get your Google AdSense account cancelled! However, if you don't use Adsense and instead have popup windows on your site, you can still use Easyhits4u as it allows only one popup per site. You can read more at the "Terms of Service".
What type of sites is not allowed on Easyhits4u?
Sites that contained porn, adult content, warez, illegally copied software or offensive content are not accepted on this site. If your site, banners and text ads are not in English, you can still submit your site as long as you use the appropriate language targeting. In addition, you site cannot launch more than one JavaScript alert/popup that requires user input to allow surfing to continue and no sites that deliver ads in mini or zero-size iframes is also not allowed. You may not advertise any surf pages trying to earn credits from another traffic exchange and should not attempt to automatically download files. This is to ensure that all the members of the traffic exchange is protected from spam or viruses.
Verdict
Generally, in the past, I have been using Easyhits4u to gain more traffic to my site and it has worked really well. In the past, this site also pays you for each 1000 sites that your surf. It was not much, just $0.30 per 1000 sites but I don't think it still offers this now. This site is very reliable and I have not experience any downtime at all from the site. It also provides analysis on number of hits/traffic to the websites that I advertise. However, lately since I have been learning more about SEO (search engine optimisation) and Google Analytics, I realised that by using a traffic exchange, although I get more traffic to my site, it actually reduces the time users spend on my site as the traffic exchange uses a 20 secs timer only. It also increases the "bounce" rate to a high of 90%! Bounce rate is the percentage of single page visits (or web sessions). It is the percentage of visits in which a person leaves your website from the landing page without browsing any further which I felt will not really benefit my site in the long term. Therefore, my advice would be to only use it at the start when you want to increase your traffic, however, subsequently you should try to work on increasing your traffic through SEO and research keywords that will ultimately drive more organic traffic to your site.
Conclusion
If you want to waste your time and money, then by all means join the site but I am very sure you have better things to do and better sites to check out which are totally Legit – Cryptomininggame.com, Satohilabs.net, Cointiply.com, Febbit.com, SFI just to name a few. Better still, to truly start your own online business and make a steady residual income – just go to my #1 Recommendation to learn all about this amazing programme that will truly change your life! I know coz it has transformed my life! You don't need to have any experience in this or even need to go out and meet people to gain some sales. Training and step by step guidance is provided through the site and the amazing community that is always available 24/7 will definitely blow your mind. Join me here and let me coach you towards achieving your financial freedom and living the life that you truly deserve!
Till then,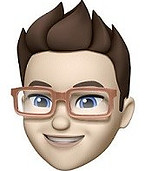 Alston C.